DOWN IN THE VALLEY: Five takeaways from ISU loss to Montana |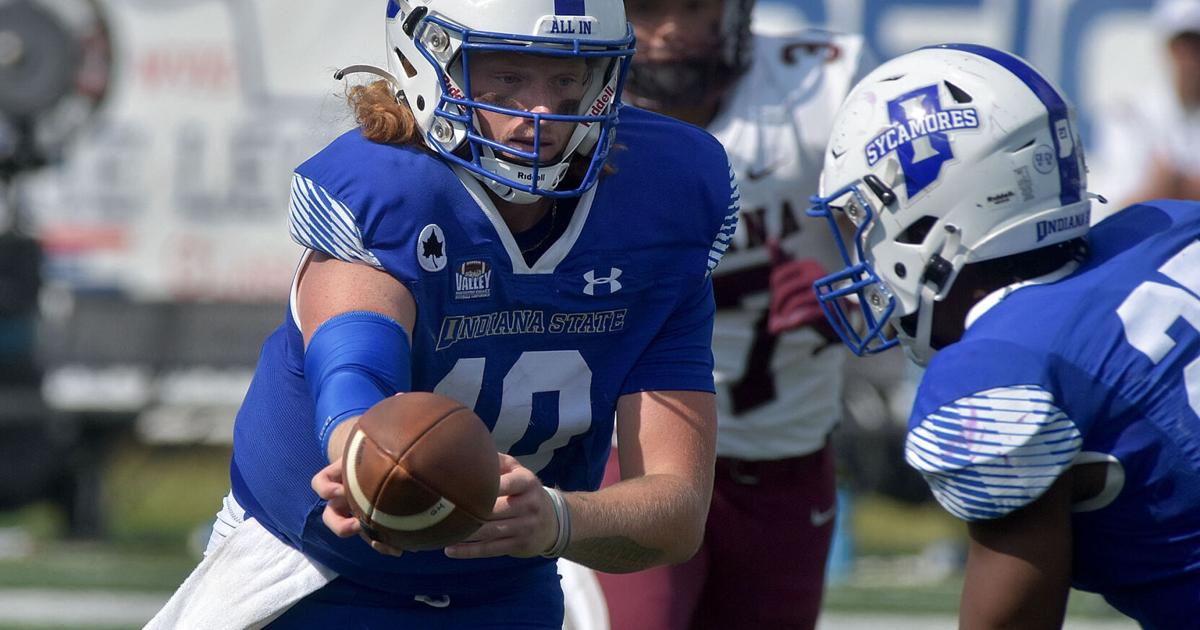 When I spoke with Indiana State football coach Curt Mallory shortly after the end of the Sycamores' 49-14 loss to No. 3 FCS Montana, he was not no difficulty in diagnosing the problems encountered by the ISU on Saturday.
Mallory has jumped from holding penalties, defensive and offensive, to not completing blocks and drives, to dropped passes, to the pressure the ISU defense is under when the offense can't move the sticks.
You know the ISU is in trouble when what's afflicting them can't be summed up in a single thing or two. There is not a unit that did not have at least a role to play in the heavy loss of the ISU. In two games playing teams considered to be of a higher caliber than the Sycamores, it was shown that the ISU had quite a few shortcomings that needed to be worked on.
Consistency is a common theme, ISU quarterback Gavin Screws said specifically after the game. The ISU didn't get it (not even in the win over North Alabama) and it's hard to put that on track when the result on the scoreboard offers no positive reinforcement.
Here are five takeaways from the game:
1. Montana's trick plays seemed to slow the ISU defense — One of the purposes of a rigged play is not only to surprise the defense for a long surprise win once, but also to unbalance it in future plays.
Montana performed two sets of tricks on back-to-back series in the first half. The first, a halfback pass (which Montana nearly messed up when the fullback was thrown low) was the home run as Montana guard Junior Bergen found Malik Flowers for a touchdown pass from 27 yards that put the Grizzlies for good at 14-7.
At the start of the second quarter, Montana once again went to the bank. This time it was a double backhand that Bergen lined up to throw in another pass. This time? The ISU was stacked on the right side that Bergen was on and he had no one to throw to. He ran out of bounds for a loss of 6 yards.
The question, however, was not whether the part worked or not. It seemed like Montana's drive to break out of the trend took away some of the aggressiveness from the ISU.
Maybe it was a coincidence? Montana quarterback Lucas Johnson hit a crescendo and maybe he would have done it whether the Grizzlies played tricks or not? However, the ISU sails lost wind around the same time these games were run and their effect cannot be completely ignored.
2. Vis takes responsibility — I was impressed with Screws' behavior after the game. He knows he has to be better.
First? It was good to see the ISU put the quarterback rotation they used against Purdue in the backsight. I've already clarified my position on the quarterback ambiguity…it's never good.
The screws started very well. When you go back and watch his 8 of 9 start, there are some gems in there that are forgotten in the wake of the loss. A 20-yard throw to Dante Hendrix to convert a 3rd-and-19 among them.
However, once Montana stopped Justin Dinka and the ISU running game, Screws lost his effectiveness. Forced to throw on the pitch, his throws became more upbeat, less assured. By then, Montana knew passes were coming in and covering Hendrix and other ISU targets.
The screws didn't put much pressure on the Grizzlies defenders in any case. Many of his casts sailed long. It wasn't hard to feel that several throws were forced.
At the end? The Screws were 11 of 22 for 115 yards. But finishing 8 of 9 followed by 3 of 13 is a strange way to reach 50%.
Let's not talk entirely about the screws either. Montana Defense is good. It's not like Screws isn't playing anyone. Initial pressure from Montana also had an effect. Vis was a duck sitting on Montana's four sacks.
I don't know what the ISU should do here. Evan Olaes came in late, but finished just 1 of 5 against the Montana Reserves.
It's a chicken and egg story. The screws were clearly better when Montana had to respect the ISU running game. Thus, Screws does not receive any help when the current game is stopped. On the other hand? Screws cannot create balance on their own to aid racing play.
Difficult puzzle for the plane trees.
3. Penalties — Seven flags for 94 yards. I can't have it and the ISU secondary was involved in the most impactful laundry.
At first, the ISU got away with penalties. ISU came out early from Dante Hendrix's attacking pass interference and also escaped unscathed from a brutal setter penalty on Trejuan Purty. The ISU also got out of an early withholding penalty.
However, in the second half, there was no refuge. A pass interference penalty on Johnathan Edwards gave Montana a boost on the first play of the third quarter. Another pass interference on the next series, this time on Kalael Davis, put Montana on ISU 11 and the Grizzlies scored a play later.
On one of the final plays of the third quarter, third pass interference on Bilhal Kone created another Grizzlies score.
4. Wounds in the wrong place — Although Dinka ran extremely well early on (Montana took the lead after Dinka rushed for 88 yards and that was it for his production), losing Tee Hodge took away ISU's running variety. Former North Central star Dawson Basinger spelled Hodge. and had 25 rushing yards, but ISU couldn't play their inside-out running game.
ISU linebacker Geoffrey Brown made a great save on the third quarter goal line, but paid a heavy price. Montana running back Nick Ostmo was stopped short, but Ostmo, trying to make his way to the end zone, accidentally grabbed Brown in the chin.
Brown tried to keep playing, but he was in such bad shape that the officials stopped the game so they could attend to him. Brown was taken to the locker room just off the pitch.
Given that the ISU has two weeks until its next game, we probably won't know Hodge or Brown's status for a while. Mallory didn't seem too concerned about Hodge. We'll see about Brown. It is bad to speculate about possible head injuries.
5. The Big Sky-MVFC Challenge – The Big Sky-MVFC Challenge has been contested since 2017, though ISU fans probably weren't aware since Saturday's game was ISU's first appearance.
It just seems like a wrong concept, if I'm being nice. Unlike the now moribund Mountain West-MVC Challenge, it is widely dispersed in terms of participation. It's not really a definitive measure of which league is best.
It's just a matter of which league gets the most favorable matchups. Granted, a young ISU team playing No. 3 Montana wasn't apples to apples. Football scheduling is weird and needs to be done beforehand, but in the world of more flexible basketball scheduling, you'll never get such a mismatch in a series of challenges.
That said? Credit to Big Sky for a great win for Sacramento State at Northern Iowa on Saturday. The Big Sky went 3-2 on Saturday as Southern Utah also won at Western Illinois. North Dakota won against Northern Arizona and South Dakota beat Cal Poly.
The Big Sky is a quality conference, I don't disrespect them at all, but this "challenge" would be much more legitimate if all (or most) of the schools participated each year. As is? It is not an indicator of the best conference.
Save that for the FCS playoffs.