Flavor wins when you replace sugar with "sweet ingredients"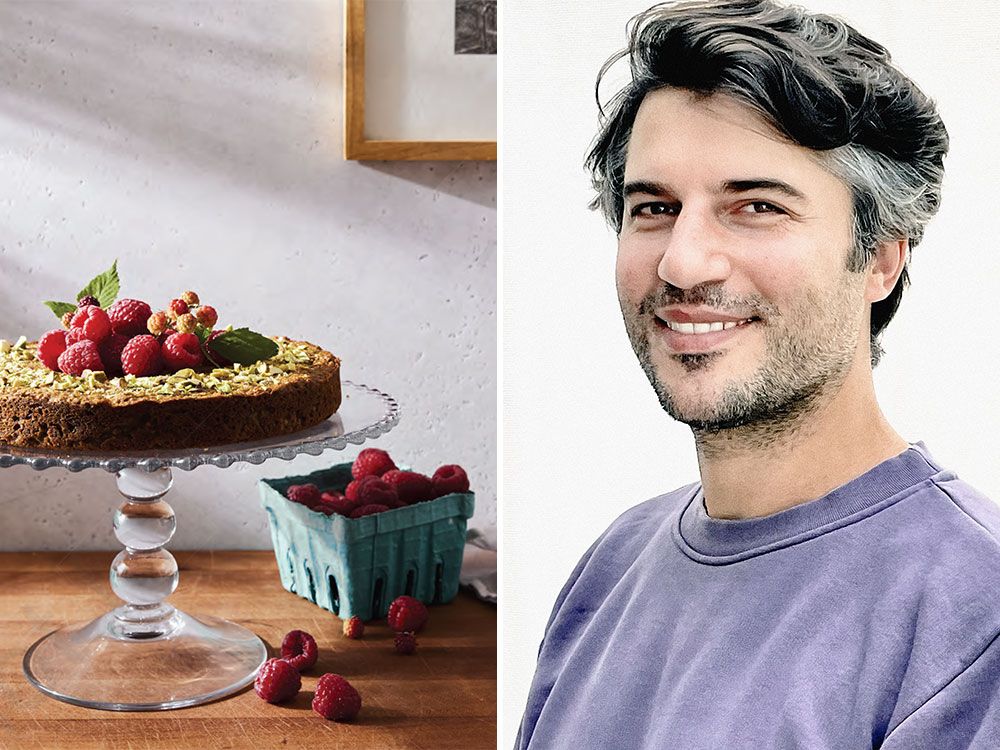 In Good & Sweet, pastry chef Brian Levy shares a new way to cook using whole food ingredients – no sugar or syrups
Reviews and recommendations are unbiased and products are independently selected. Postmedia may earn an affiliate commission on purchases made through links on this page.
Content of the article
Our cookbook of the week is Good & Sweet by Brian Levy. To try a recipe from the book, check out: Salted Chocolate Buckwheat Cookies, Gooseberry Parfaits, and Pistachio Cake.
Content of the article
Brian Levy likes a challenge. After years of working as a pastry chef in Europe and the United States, including at the Michelin-starred Babbo in New York, he has developed a new style of pastry. One that eschews sweeteners such as cane and coconut sugar, maple syrup, and honey, and instead relies solely on fruit and other "surprisingly sweet ingredients."
Content of the article
"There is no totally necessary reason, other than the challenge, for me to set myself specific rules. No maple syrup, no honey, no agave. I even wanted to save fruit juices as a last resort," says Levy.
The result is a pastry with a unique character. In addition to their intrinsic sweetness, Levy's distribution of ingredients provides flavor.
Working on a farm in Catalonia, Spain – where he cooked meals every day using produce harvested from supermarket bins – and studying architecture at Yale University (he quit a semester before getting his degree), Levy learned to be creative within limits.
Content of the article
Although he had enjoyed finding inspiration in well-stocked pantries as a chef, Levy found that "huge boundaries" could also spur ideas.
"It's easier to come up with ideas and be creative when there are limits. When everything in the world is a possibility, it's more overwhelming to me than inspiring," he adds.
His fruit-sweet experiments began more than eight years ago with mango cream: "overripe" mangoes mashed with raisins and whipped into a simmering cream mixed with powdered milk. Lush and creamy, the recipe is one of Levy's 100 features in her first cookbook, Good & Sweet (Avery, 2022).
After her success with sunny custard, Levy started experimenting with more sweets by swapping sugar for fruit — at first just for fun. He searched for existing recipes in the same vein but came up empty-handed.
Content of the article
Save some by using dates, most "naturally sweet" cookbooks he found used sugar in other forms – syrups (e.g. maple, brown rice, agave), sugar coconut, honey, fruit juice concentrate, etc. – or simply reduced the quantity.
"I was a little shocked that I couldn't find anything," Levy says. Seeing the potential for a cookbook, he slowly began to accumulate recipes – including "less obvious sweets (those that weren't seemingly fruit desserts)", like sticky toffee pudding cake on Good & Sweet cover — and started working on a book proposal.
Levy considered sugar substitutes — calorie-free sweeteners with the same sweetness as sugar, such as those made with erythritol, monk fruit and stevia — "but those aren't real foods." With fruits and other whole foods, however, there is no individual exchange. Each recipe was an experience.
Content of the article
Adding to the complexity, the shape-shifting sugar contributes far more than just the sweetness, Levy says. It provides structure and helps keep baked goods fresh and moist. When caramelized, it adds color, flavor and texture.
Working without sugar recalled its characteristics and Levy learned that it cannot be substituted in some recipes. A meringue, for example, needs white sugar. "But there's this whole other world of recipes that's possible without that and using different ingredients."
To that end, he designed a calculator with an ingredient database, which gives him a head start when converting high-sugar recipes into sweet recipes with fruits, grains, nuts, and drizzles. other ingredients.
"I couldn't find an alternative sweetener. I'm not just trading something for sugar. I use what I call sweet ingredients," says Levy.
Content of the article
"They are pretty much whole food ingredients of which sweetness is a big part. And I need it to make up for the sugar that isn't in these recipes, but they're also ingredients that have flavors and other qualities of their own.
Levy was delighted to discover the possibilities of sweet ingredients, including powdered milk, roasted chicory root and various forms of coconut. He also enjoyed exploring foods new to him such as dried mulberries and freeze-dried sweet corn.
Cook this: Good & Sweet Salted Chocolate Buckwheat Cookies

Cook this: Good & Sweet Pistachio Cake
In Good & Sweet, Levy adds blackberries to chewy oat bars and a crumble topping for their botanical relative, fig. ("You can kind of taste the kinship.")
Content of the article
Freeze-Dried Sweet Corn – pulverized into a powder – adds sweetness and "a fresh, pop of corn flavor" to her Rosemary-Lemon Shortbread, Strawberry Sweet Corn Shortbread, Blueberry Cobbler, Fig Crostata, Corn Pie Dough sweet and buttermilk sweet corn cookies.
Although the recipes of Good & Sweet are free of cane and coconut sugars, molasses, fruit juice concentrate, syrups and honey, they are not sugar-free, points out Levy. Fruit, after all, contains sugar (a mixture of sucrose, fructose and glucose).
(As researchers Kacie Dickinson and Jodi Bernstein write, "Evidence shows that sugar-related health risks, such as tooth decay and unhealthy weight gain, are linked to eating too many free sugars ( added) in the diet, and not to the consumption of sugars that are naturally present in fruit or milk.")
Content of the article
Levy found inspiration for Good & Sweet in Alice Medrich's seminal cookbook, Flavored flours (Artisans, 2014). In the book, Medrich treats flours such as buckwheat, oats, and teff as star ingredients in their own right — not just gluten-free substitutes for wheat flour.
"That's really how I wanted to approach it. For example, let's not consider this a sugar-free book. Let's look at it like, 'What if cane sugar didn't exist? What would we do with all these things that exist? We can always make dessert," Levy says.
Finding ways to use fruits in various states (fresh and frozen, dried and freeze-dried, cooked and lightly squeezed) and when they are most appropriate was a challenge. Now that he knows what's possible, Levy wants to reintroduce sugar as a seasoning.
Content of the article
Bakers will add two cups of sugar to a cake or cookie recipe, for example, and won't think twice. Levy suggests equating sugar with salt: "I know they're different flavors. But all the same, it is an extreme sweetness that we often experience in desserts without really questioning ourselves.
Pairing his approach with touches of sugar could mean sprinkling a few pinches on a sweet fruit galette for crunch and sparkle, or making a Mont Blanc (layers of meringue, whipped cream and chestnut puree) made from a sweet meringue and a filling of fruit-sweetened chestnuts.
"There's no reason it should be all one or the other," Levy says. "I encourage eating those cakes and pies with a scoop of ice cream that you have in the freezer. I'm not saying, 'Let's cut out 100% cane sugar.' I just wanted to explore other possibilities.