Griz Notebook: Cornerback Justin Ford, display depth of impoverished defense in victory over Dixie State | UM Grizzly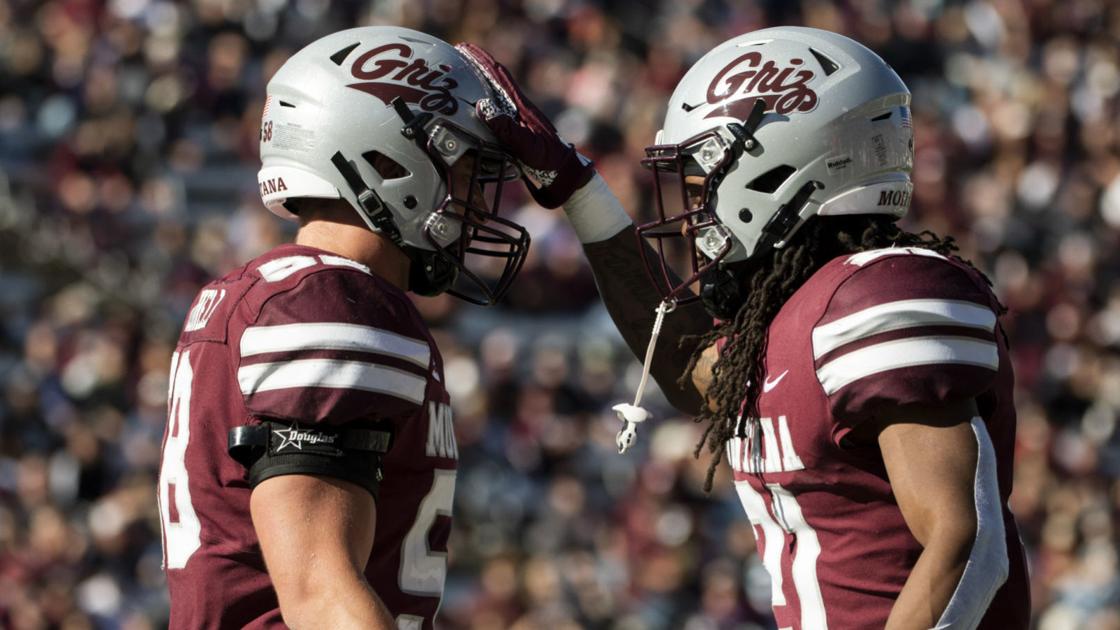 [ad_1]
MISSOULA – Justin Ford had a chance to redeem himself and came out on top in Montana's 31-14 win on Saturday.
The Montana cornerback intercepted a slant pass in the end zone to keep Dixie State off the board in the first quarter. Just four games earlier, he appeared to slip into a head-to-head coverage, but quarterback Kenyon Oblad knocked down a wide-open Keith Davis in the end zone.
Ford's interception was his third of the season, tied for the Big Sky Conference lead and tied for seventh in the FCS. It was also his third straight game with an interception, making him the first Griz to achieve this feat since Trumaine Johnson in 2010.
"Our defense is trying to stay on par," said Ford, whose other interceptions have come deep into UM territory on the 9 and 11 meter lines. "Each down is just as important. Just because they're in the red zone we're trying to stop them from getting there, so now that they're here, we're holding our heads up so as not to award points.
"It's so important. We really approach everything with the same mindset no matter who we play. That's exactly how we play."
Ford, who made his third start in five games after playing behind runner-up Corbin Walker in camp, has been an important part of the reshaped cornerback squad that prides itself on playing fast and physically. It shows why he was rated so highly when he left college, having received 20 Division I offers before choosing Louisville in 2019.
Ford transferred to Montana in 2020 and played in both spring games, showing off his crushing blows as a defenseman. He believes it has helped him prepare for this fall, his first extended playing time since the 2018 season after missing 2019 with an injury sustained at fall camp.
"I kind of knew the defense already, but you really don't know until you go and play a game with a bunch of guys," he said. "I felt comfortable in those two (spring) games, and now I think we just ride as a team and we really like staying together as a group."
As Dixie State threatened to score in the fourth quarter, Ford forced a fumble on the fourth and the goal from the 1-yard line. He had an Oblad strip-sack and then got the ball back.
"This is just how we play: go get the football whenever there is an opportunity," he said.
Ford tripped while trying to retrieve the ball. When he did, he ran eight yards before trying to move the ball to linebacker Jace Lewis, which turned out to be an illegal forward pass. The sideways attempt drew a serious moment on the sidelines that made Montana coach Bobby Hauck laugh after the game.
"I remember what I said to him. Here's what I said: 'The fans love it, and I hate it. You get to decide who you want the right favor, "Hauck said as Ford, seated to his left, pointed at him.
Defense exhausted
UM's defense was exhausted on the line and in the secondary but showed its depth by holding Dixie State to 261 yards, 2 of 13 on third downs and 1 of 3 in the red zone. The Griz collected four sacks and didn't allow DSU's offense to score until 92 seconds left in the game.
The Griz played without defensive ends Joe Babros and DeAri Todd and safety Gavin Robertson. Babros has been wearing a walking boot since he was injured at the start of the Cal Poly game, but has suffered some warm-ups. Robertson, who was reportedly ill, also suffered overheating. Todd was not seen in uniform after an injury at the end of the Eastern Washington game's first half.
Freshman Henry Nuce, a Kalispell Glacier graduate, and junior RJ Nelson started in the defensive positions. Regular starter Justin Belknap and second stringer Jacob McGourin both came off the bench early on and each lost one of the Grizzlies' five tackles. Second safety Garrett Graves, an Eureka graduate, got his third straight start and made five tackles.
The linebacker squad has been strong all year, and junior Marcus Welnel led the Griz with eight tackles. Fellow junior Patrick O'Connell, who appeared to injure his right hand in the Eastern Washington game, added seven tackles
"It was an interesting week to say the least, figuring out who was going to hook up where and how many guys would be available to play and how much practice they had," Hauck said. "It has been a difficult week in that regard."
Madness of the special teams
Montana cornerback Robby Hauck looked like he was going to return a punt for a touchdown, but was tripped by one of his own teammates, cornerback Autjoe Soe.
"When he missed the guy in front of us I thought he was going to score," said Bobby Hauck. "Then Soe tripped him, our guy tripped him, which is a shame, but that's the way it is."
Freshman Keelan White had started the punt return in place of Gabe Sulser, who had not dressed after being injured last week. He missed his first two comebacks, which led to Robby Hauck entering.
"… We got fed up and put in the next guy," said Bobby Hauck.
Robby Hauck's big 34-yard return put the Griz on the 25-yard line late in the second half as they tried to build on their 3-0 lead. They came down to the 4-yard line but settled for a basket, which turned out to be a fake. Starter Mitch Roberts returned the ball to kicker Kevin Macias, who ran to the right and tried to back inside, before being abandoned without a win.
"They sniffed it out," said Bobby Hauck. "Good game from them. "
Register
Senior wide receiver Sammy Akem had four receptions on Saturday, giving him 157 for his career to climb to 12th place in MU history. He passed Ryan Bagley and Samori Touré. Jerry Louie-McGee holds the record at 230.
Akem also had 57 receiving yards, giving him 2,264 over his career and placing him in 14th place in MU history. He passed Jimmy Farris and Bill Cockhill. Jamaal Jones holds the record of 3,021.
Robby Hauck made six tackles, giving him 282 tackles over his career to climb to 18th place in MU history. He overtook Kendrick Van Ackeren in the victory. Dante Olson had the record of 397.
[ad_2]