Michelin airless tire ready to go to the moon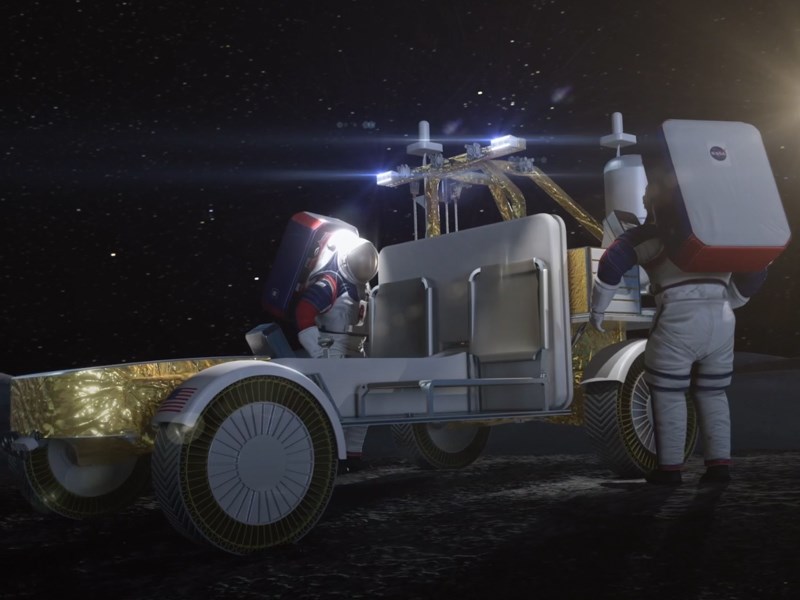 ---
With its Tweel airless tire technology, Michelin has solved the problem of flats for a range of turf, construction and utility vehicle applications here on Earth, and now may even be heading to the moon.
Michelin's Tweel could be part of future space missions
The Michelin X Tweel is a non-pneumatic, non-solid tire/wheel combo that provides a maintenance-free, puncture-proof tire option for consumers.
Based on the Michelin X Tweel, the Michelin Lunar Tweel was designed to maintain flexibility and constant ground pressure, allowing the vehicle to move through soft ground and craters.
Plus, it combines low weight and high load capacity, making it 3.3 times more efficient than the original Apollo Lunar Rover wheels.
Its unique construction allows it to be specifically designed with ideal characteristics and can now be used for highly specialized low-speed applications like ATVs, UTVs, skid steer loaders and riding mowers.
Unlike conventional tires, the Tweel has no air, solving what seemed to be the inevitable challenge of chronic flat tires that plague the landscape, construction, contracting, waste/recycling and of farming.
With the Michelin X Tweel, you can say goodbye to punctures.
The airless radial tire is a single unit that replaces the current tire and wheel assembly.
There is no need for complex mounting equipment and once they are bolted on there is no air pressure to maintain.
The unique energy transfer in the polyresin spokes helps reduce "bounce" associated with pneumatic tires, while providing exceptional handling characteristics.
They are designed to perform like inflatables, without the inconvenience and downtime caused by punctures.
Michelin X Tweel tires have been fitted to a range of different machines, covering turf maintenance, skid steer loaders and light construction, ATVs and UTVs and golf carts.
The Michelin X Tweel skid steer loader range is offered in hard surface and off-road tread patterns. There is no need for complex mounting equipment and once they are bolted on there is no air pressure to maintain. The all-terrain offers a deep open tread for excellent traction on a wide range of surfaces
Michelin X Tweel lawn products eliminate the common problem of unseated bulges and flat tires on zero-turn mowers and small to mid-size ride-on lawn tractors. They have a consistent hub height that helps ensure the cutting deck produces an even cut, and their full-width polyresin spokes provide excellent lateral stability for outstanding performance on side slopes. The spokes also help cushion the ride for increased operator comfort, even when navigating curbs and other bumps. High performance compounds and an efficient contact patch are designed to deliver long life two to three times that of a tire at the same tread depth
THE NEXT STEP
Demonstrating just how revolutionary Michelin Tweel tire technology is, the company recently worked on a project to develop an airless tire for a future lunar vehicle alongside team members from aerospace and defense company Northrop. Grumman. Working under a NASA tender, a mock-up of the future lunar vehicle was unveiled to the general public for the first time at the Consumer Electronic Show (CES) in Las Vegas.
The objective was to develop a tire capable of withstanding the extreme conditions of the lunar pole in order to facilitate the exploration of the lunar surface and allow a sustainable presence on the Moon in 2025, and eventually on Mars.
The Artemis program developed by NASA plans to send a man and a woman to the Moon in 2025. The two astronauts will travel in a new lunar vehicle, in search of a suitable site for the establishment of a base.
Michelin affirms that taking part in this adventure and supporting this exploration work is part of the company's raison d'être and its passion for mobility.
This is an opportunity to acquire new knowledge in terms of mobility solutions and to further stimulate Michelin's unique innovation capabilities.
In order to design an airless pneumatic solution suitable for the lunar terrain vehicle, in addition to its experience acquired during previous collaborations with NASA, Michelin will draw on its expertise in high-tech materials and on the know-how acquired in the development of airless tires. solutions for extreme applications.
For more information on Michelin X Tweel tires visit: www.michelin.com.au/michelintweel
For more information on Michelin's Moon Vehicle Research, visit: www.michelin.com/en/news/michelin-is-getting-ready-to-go-to-the-moon
Subscribe to our newsletter
Sign up to receive the ATN e-newsletter, digital magazine and other offers we choose to share with you directly to your inbox
You can also follow our updates by joining our LinkedIn group or liking us on Facebook.

Trucks for rent | Forklifts for rent | Cranes for rent | Generators for rent | Transportable buildings for rent