PSB's Synchrony Series Gains Momentum with High-End T800 Tower Loudspeakers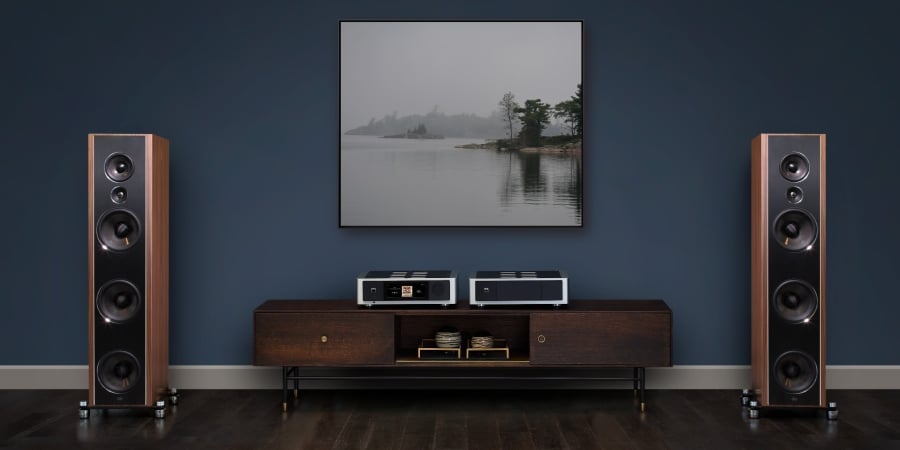 About a year ago, PSB launched its new flagship Synchrony Series with floor model T600 ($8000/pair) and shelf model B600 ($2500/pair). These speakers definitely have flagship DNA, including all new drivers, more internal bracing than in any other PSB speaker in the company's history, and 5mm aluminum baffles. thickness decoupled from the rest of the enclosure by 10 "insulation cups", to eliminate foiling conversations and preserve fine detail. The stabilizer feet of the T600 are equipped with Gaia II IsoAcoustics Isolators — an $800 "adjustment" included in the purchase price — while the B600 shelves have custom IsoAcoustics isolators built right into the bottom of their cabinets. All of this is packed into sleek, yet understated rectangular cabinets finished in satin walnut veneer or gloss black paint, with acoustically transparent, magnetically attached grilles. These are impressive speakers with prices that reflect both the high build quality on offer and PSB's commitment to delivering value. But when it came out last fall, eagle-eyed readers noticed a few things that hinted at a potential expansion of the Synchrony series down the line. First, there was the obvious lack of a dedicated center speaker – and for now we're still waiting for that. But second, some long-time PSB fans couldn't help but notice that the T600 was significantly smaller than the company's previous flagship model. Measuring just over 41 inches and weighing 77 pounds, the T600 wasn't what I'd call small, and its trio of 6.5-inch woofers can pump out substantial bass. The previous Synchrony series (launched in the mid-2000s and out of production for a time) was driven by a not much larger speaker – the top-of-the-range Synchrony One was 43 inches and also used three 6.5-inch woofers . But in the meantime, PSB had released a larger flagship, the 2014 Imagine T3 floorstanding speaker, with a nearly 48-inch-tall cabinet and 7-inch woofers. It remained the leader of the PSB pack until the T600 arrived in 2021. Compared to the Imagine T3, the T600's shorter baffle and smaller woofers left me puzzled: designer Paul Barton has- Did he decide to scale things down for his new flagship, or was something bigger on the horizon? We now know that he actually had a big trick up his sleeve: the new PSB Synchrony T800 ($12,000/pair).
IsoAcoustics GAIA: Does this speaker tuning really work?
Retro speakers PSB Passif 50

In the wake of PSB's retro style 50 Anniversary Edition Passive Speakers comes the Synchrony T800, a new flagship model marking 50 years of the company. Like the T600, the T800 features a 5-way crossover network (more on that later), using three larger 8-inch woofers and a 5.25-inch mid-range driver, all featuring cast iron baskets, woven carbon fiber cones, mass-filled rubber surrounds and advanced motor structures that maintain a constant magnetic force within the voice coil space. The 1-inch titanium dome tweeter is a PSB signature, with ferrofluid damping and a neodymium magnet. Thanks in part to the larger woofers, the T800 offers wider full-frequency bandwidth than the T600 and can play louder than any other PSB design, while delivering greater efficiency and lower distortion at all volume levels. . The power handling capability is also superior to the T600, making the T800 suitable for large rooms and the powerful amplifiers that tend to accompany them. The T800 "carries the largest and most accurate performance envelope of any PSB loudspeaker to date and delivers a caliber of micro-detail and realism that surpasses previous flagship designs," according to the company. Among the most notable improvements is a new speaker platform that allows for a significant reduction in nonlinear distortion. This would keep THD and intermodulation distortion low while delivering higher sound pressure levels without compression, resulting in deep bass impact and a more open midrange. The new speaker platform is also said to offer significantly better micro-dynamics (small sound gradations) compared to previous PSB designs. Reduced driver distortion is provided by a number of components working together in an advanced driver assembly, including Faraday rings, longer voice coils and a balanced magnetic drive.
PSB Synchrony T800 floorstanding loudspeakers

PSB is famous for its crossover designs, and the Synchrony T800 uses what the company describes as "the most advanced perfect amplitude 4th Order Linkwitz-Riley Crossover that PSB Speakers have never used, with high voltage poly film capacitors and oxygen-free interconnect wire for complete driver control. As in the T600, the T800's woofers form a transitional array design, meaning the three woofers cover increasingly narrow frequency bands the further you step down the speaker. The upper woofer covers the entire bass region, from the lowest frequencies to the crossover point with the midrange driver. The mid woofer also starts low, but drops much lower, well before the midrange crossover point. Finally, the bottom woofer plays only the lowest frequencies. According to Paul Barton, this unusual woofer array produces a smoother bass response because it "randomizes" the floor-bounce phenomenon, in which low-frequency sound waves bouncing off the floor interfere with sound coming directly from the woofers. The T800 is specified to deliver bass down to 21Hz (-3dB), with "well-defined and extended low-frequency performance comparable to a premium subwoofer", according to PSB. But extension is only one aspect of bass performance; a loudspeaker must also provide high output at these low frequencies. The company says the T800 plays deeper and louder than any other PSB loudspeaker, with high efficiency (92dB at 1m) and low distortion at all levels, delivering wide dynamic range and the kind of volume levels you would encounter during a performance live, even in large listening rooms. Listeners with common low-frequency room resonance issues can use the included port plugs to fine-tune the bass output of the T800.
IsoAcoustics Gaia II Isolation feet included with PSB T800 towers

The PSB T800, IsoAcoustics feet included!

The impressive bass performance of the T800 is of course aided by the increased speaker volume. It measures nearly 48 inches high, 15 inches wide, and just over 15.5 inches deep. Each of the 8-inch woofers sits in its own individually tuned chamber with its own rear trigger port to break up standing waves in the speakers. As in the T600 and B600, the T800's acoustically inert MDF enclosure is reinforced with a decoupled aluminum front baffle plate, increasing baffle density and overall cabinet rigidity. Each T800 speaker weighs 100 pounds and sits on outrigger stabilizers fitted with custom-designed IsoAcoustics Gaia II isolation feet. These are said to "prevent mechanical energy produced by the drivers and enclosure from being reflected back into the enclosure", while "resisting lateral movement and oscillation to maintain accuracy and alignment with listening position". According to PSB, IsoAcoustics Isolation Feet provide greater sonic clarity and openness by reducing internal reflections and shielding the speaker from external vibrations. (We tested the largest Gaia I and Gaia Titan isolators by IsoAcoustics, and came away very impressed with their performance. See November 2021 review by Theo Nicolakis.)
PSB says that the Synchrony T800:
"enriches the Synchrony series and represents the ultimate application of True to Nature sound – an application marked by the highest possible level of tonal precision, thrilling dynamics, punchy bass, transparent mids, precise imaging and exquisite detail", giving it the ability to "handle the most complex recordings – whether it's an orchestral soundtrack, quiet nature sounds or a live action film – with a degree of dynamics and of power unlike any other PSB loudspeaker that has ever come before it.

PSB Synchrony B600 and PWM Home Theater Speaker Review
Unlike the smaller T600, the T800 leaves us with no idea that Paul Barton is holding us back. It looks like a real flagship, with a relatively high price (for PSB, anyway). The only question is whether PSB fans yearning for a Synchrony home theater will be happy using one of the brand's high-end in-wall speakers (the $1,599/each PWM2 or the $2,749 /each PWM3) as center speaker. The company tells us that they "have been voiced and have very similar dispersion characteristics to the Synchrony T600 and B600", but I think many of us would prefer a dedicated Synchrony series center speaker – from preferably a 3-way design with a vertically oriented tweeter and midrange. That said, YouTuber and Audioholics friend Shane Lee reviewed a combo system using the Synchrony B600 bookshelf speakers and the aforementioned walls.
Would you be happy to use a slim in-wall speaker as the center channel in a home theater system anchored by PSB's powerful new towers? Share your thoughts in the related thread below.
Unless otherwise stated, this is a preview item for the product shown. A formal review may or may not follow in the future.
embarrassed posts on Oct 20, 2022 2:53 AM
One year after launching its new Synchrony B600 bookshelf and T600 floorstanding loudspeakers, PSB is expanding the flagship range with a new top dog. The larger Synchrony T800 is a big 4-foot-tall tower with three 8-inch woofers, a 5.25-inch midrange driver, PSB's titanium tweeter, and their most advanced crossover to date. It promises to play louder, deeper and cleaner than any previous PSB speaker.
58237
Lily: Overview of the PSB Synchrony T800 floorstanding loudspeakers
Would you be happy to use a slim in-wall speaker as the center channel in a home theater system anchored by PSB's powerful new towers?