Signal exchange will require traffic to pause, says ArDOT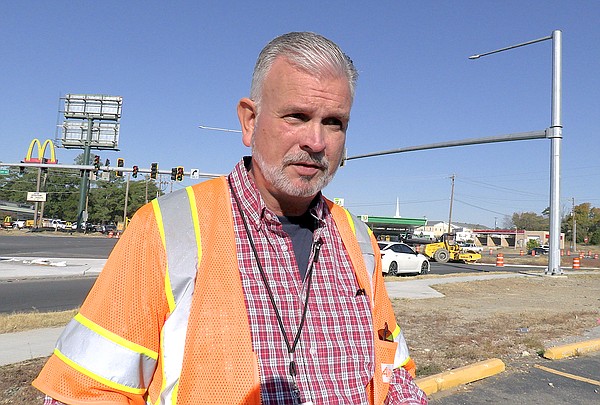 The Arkansas Department of Transportation said Friday that traffic will be halted when traffic lights are removed at the intersection of Highways 270 West and 227, also known as Albert Pike Road and Mountain Pine Road.
The shutdown is scheduled for late October, said ArDOT District 6 engineer Tony Evans. This is part of Albert Pike's $22.6 million widening of the Mountain Pine Road intersection at Fleetwood Drive. McGeorge Contracting Co. broke ground on the 1.75 mile project in October 2021.
The 0.50% state sales tax voters authorized in 2012 and extended in perpetuity in 2020 are funding the project. Evans said it was expected to be completed by the end of next year.
BGE Inc., the ArDOT consulting firm hired to oversee the work, said the removal and activation of the new signal was tentatively scheduled for Halloween. ArDOT encouraged drivers to take an alternate route.
Video not playing? Click here https://www.youtube.com/embed/nJDVligxCPY
"The only way to get it down is to stop traffic for a brief period, no more than 15 minutes," Evans said. "They're going to be ready with their equipment and everything to do with it. We'll have flagmen, and they'll be stopping traffic very briefly. They'll have everything untied already. All we have to do is rock it over the road and to the side and allow traffic to pass."
ArDOT's average daily traffic count is 34,000 for the Albert Pike section between the Bull Bayou Bridge and the intersection.
"Fifteen minutes is huge for traffic," Evans said. "It's the maximum we allow. We ask for patience. It shouldn't be that long."
ArDOT also plans to shift traffic south from Mountain Pine Road onto the new, realigned intersection roadway next week. The change will begin north of Macy Boulevard. Northbound traffic is already on the new roadway.
ArDOT condemned and demolished the mall that was in the 3000 block of Albert Pike to make way for the realignment.
"This whole intersection has always been a very congested intersection," Evans said. "We're trying to make it better for everyone. It involves a lot of work, a lot of manoeuvring, a lot of steps. We're almost at the point where we're going to change everyone. They're going to wipe out the old road where everyone traffic is right now."
The project includes a traffic light at the Crystal Hill Road intersection, which is also being realigned. Evans said the signal should be activated by the end of the year.
"Right now Crystal Hill is coming in at an angle, which is not safe, and it's also not flagged," Evans said. "What we're going to do is realign the roadway to come to a T-junction and put a traffic light there. It will be much safer for those trying to exit and enter that road."
The widening was originally scheduled to extend west to the Lake Hamilton Bridge. ArDOT director Lorie Tudor said last month that bids for the 1.7-mile widening of Fleetwood Drive at the bridge would be awarded in 2024.