Tigers trade veterans with Hurricanes, send Hopwo to Lethbridge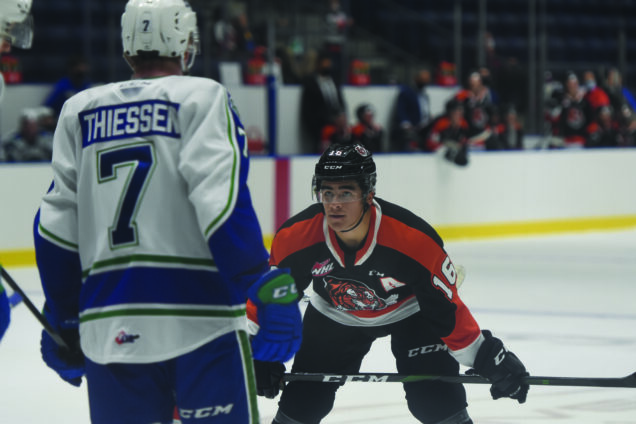 By James Tubb on January 17, 2022.
NEWS PHOTO JAMES TUBB Tigers forward Corson Hopwo measures the Broncos winger in front of him during Medicine Hat's final preseason game. Swift Current would beat the Tigers 8-2.
The Medicine Hat Tigers entered into a veteran trade before the Western Hockey League trade deadline.
The Tabbies traded 2001-born forward Corson Hopwo to the Lethbridge Hurricanes in exchange for 21-year-old Logan Barlage and a fourth-round pick in the 2022 WHL Prospects Draft.
Hopwo was a seventh-round pick by the Tigers in 2016 who has provided a veteran presence on the team this season. The Duncan, BC product played 170 games for the Tigers and was on the verge of reaching the century mark in points with 43 goals and 53 assists for 96 points.
This season, Hopwo has registered eight goals and eight assists for the Tabbies in 25 games.
Returning from the Hurricanes, the 6-foot-5 Barlage has played 31 games for Lethbridge this season, scoring seven goals and adding 10 assists.
The Humboldt product was originally drafted by the Swift Current Broncos fourth overall in 2016 before being dealt to the Hurricanes in the 2017-18 season.
The general managers of both teams got a glimpse of their acquisitions this weekend as the Tigers hosted Lethbridge on Saturday night. Hopwo scored for the Tigers en route to the Hurricanes' 6-3 win.
See Tuesday's paper for more details on trading with quotes.