Want to trade the high city life for the rural whistle (sorry, happiness)? Ask a friend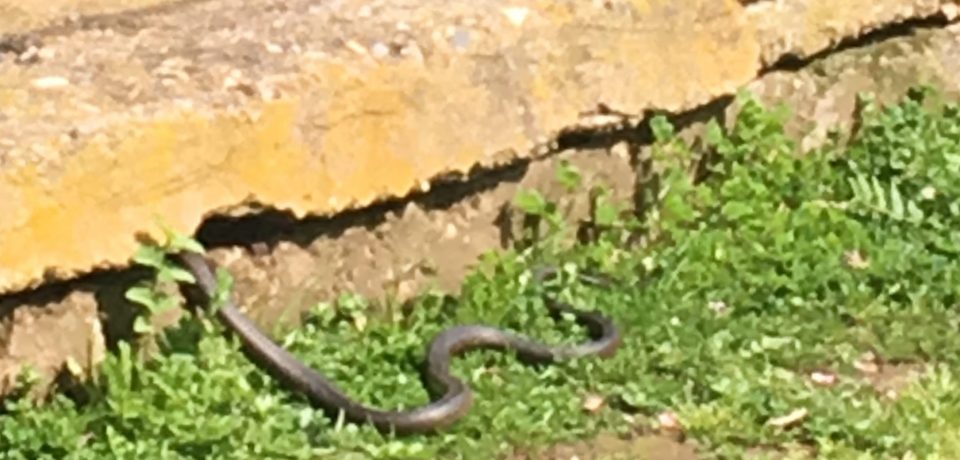 I just saw my first snake of the season. It should have been a little guy, you know, like a "warning snake" to let you know it's that time of year again. An introductory snake that had just become one, maybe even with apprentice legs – like a cute lizard. At least there should have been an L-plate attached. OK, forget the legs, that's silly. But when you brick it, anything gooey will take you back to rippling levels.
I had just hoped that my first of the year was going to plunge me into some kind of benign terror. Something that was going to warn you that his bigger, meaner parents were on the move, heading towards me.
The first snake of the season was a monster. About the size of a car. Probably. It is difficult to get a good visual when you are standing [Editor: hiding] behind a tree with eyes slightly closed [Editor: scrunched].
Well, it wasn't a little one or a red belly. He was a dark man. A brown king. And did he not know it. He looked at me with disdain – and I could swear a smile – and crept to the next hiding place to come out of. The clothesline – right next to the house.
It was his favorite hiding place – or at least, his family's favorite hiding place. I had seen others there over the years, right next to Hills Hoist. (Is the snakeskin washable? I wondered.) But that wasn't the only place I'd seen others. There was this one in the laundry who luckily first made himself known to someone other than me. Then there was the one at the front door that I had to go through before I could get in or out.
Weekly bulletin
We compile the most read region stories from the past week and send them straight to your inbox every Thursday afternoon. Subscription is the easiest way to track, with just one click.
---
READ ALSO: Brown Snake Sneaks Into Jindabyne Bowling Club
---
I don't mean to sound unreasonable but seriously, don't snakes have calendars? I mean, it was still so cold I had bloody fire the day before. It's not even lukewarm yet. I could blame climate change, but I think there has already been enough heartbreak.
A little warning would have been nice. Maybe a little sign in the garden like they have for cute crossing animals or a warning: killer snakes are coming to get you.
I guess I could have been a little more prepared. I had seen one crippled on the road leading to the farm the previous week. I mean, it looked pretty mutilated but with these assholes, who can tell. [Editor: Eyes closed again, were they?]
I tend to look away when I see them on the road, which in itself can create some problems, but it's always better to be oblivious than not, right?
---
READ ALSO: Collecting owls: it's a hoot (and a wise gesture)
---
Mutilated or not, I have a recurring nightmare where said snake slides down the engine and around my tong foot as I drive down the highway sandwiched between front loaders. At least they, the trucks, were driven by kelpies.
It had been a long time since I had seen the first snake of the season. It's something to drink, I guess, like the first Beaujolais of the season.
I wonder where he got to – the snake, I mean. I know where the Beaujolais have gone.
Original article published by Sally Hopman on The RiotACT.